Students from across the WVXU listening area and beyond responded to this year's Democracy & Me Student Voices Competition prompt with their hopes and dreams for the future. Students were asked to look critically at how the "American Dream" has historically been interpreted and consider how their goals fit into America's future and the world we are creating.
Walnut Hills High School sophomore, Audrey Symon, earned $1,000 for her poem that focused on the importance of listening to and empathizing with others' experiences. Her interest in science and biology heavily influenced her creative usage of imagery throughout the poem. "I am also very passionate about biology, so the use of biological imagery throughout the poem to express the human listening process and the neurology behind empathy aims to further accentuate my point."
The judges were immediately blown away by a linoleum cut created by Cincinnati Waldorf School's Lola Stone. Lola also won $1000 for her art entry titled "No Forbidden Fruit." "My American dream is to live in a world where no fruit is forbidden. Whether that fruit for you is actual food, a family, education, support etc., everybody should have equal opportunities to get the "fruit" they want and need."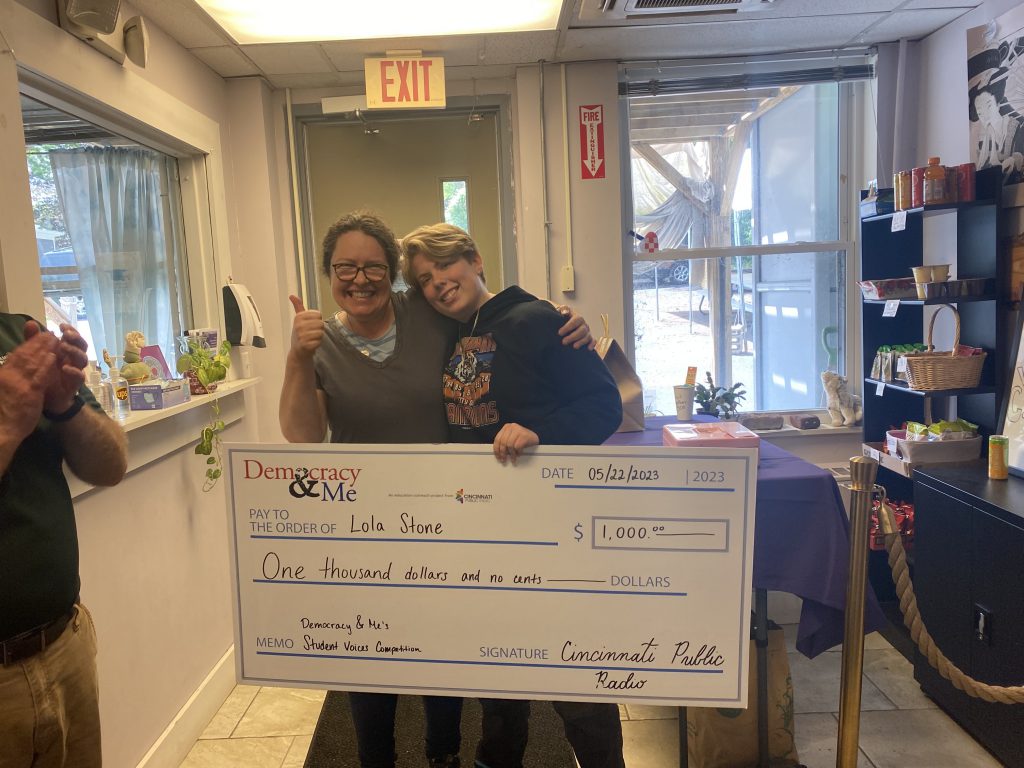 This year's Outstanding Runner-Up prize of $500 went to Aiken High School Student Razan Dabdoub. Razan submitted a powerful essay describing her experience fleeing Syria and her resilience and determination to build a brighter future. "Even if the whole road is dark, we will keep walking; even if we don't see anything, even if we fall, we will always walk; even if we have to crawl, we will not stop."
Also from Aiken High School, Shirley Sanchez received High Honorable Mention and a $500 cash prize for her exceptional essay submission titled "My Sad Childhood."
Last but certainly not least, Mr. Aaron Parker from Aiken High School received the Teacher Award.
Judges for the competition were Cincinnati Public Radio staffers Kahvah Whittaker, Kevin Reynolds, and John Clare, along with Democracy & Z host Yoshie Vinton and Ramona Wade, founder of the writing circle, Reflections.
Congratulations to the winners, and special thanks to the students and teachers from Talawanda High School, who contributed several quality submissions. Also, a special shout out to Songeun Lee, who submitted an essay from CheongShim International Academy in South Korea!
This was the fifth year for the contest, sponsored by the Charles H. Dater Foundation.
Here were this year's top 20 contest entries:  
Audrey Symon, Walnut Hills High School
Lola Stone, Cincinnati Waldorf School
Razan Dabdoub, Aiken High School
Tanvi Rakesh, Randall K. Cooper High School
Shirley Sanchez, Aiken High School
Olivia Mcgownd, Talawanda High School
Sadie Abbitt, Talawanda High School
Rojina Rai ,Aiken High School 
Songeun Lee, CheongShim International Academy
Kimaya Mundhe, Walnut Hills High School
Rimel Kamran, The Summit Country Day School
Elise Olenick , Talawanda High School
Nihal Menezes, Talawanda High School
Anna Thompson ,Talawanda High School
Diana Karina Matias Pano, Aiken High School
Clara Cradduck, Talawanda High School
Joyeuse Muhorakeye, Aiken High School
Lailyn Smith, Talawanda High School
Selvin Vasquez Velasquez, Aiken High School  
Kylee Richardson, Talawanda High School