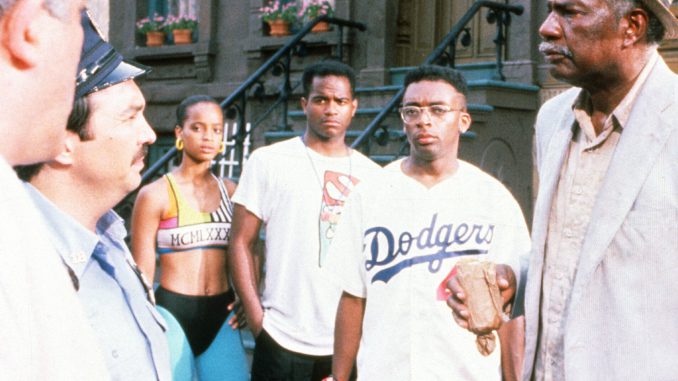 Since its explosive premiere in 1989, Spike Lee's Do the Right Thing has been recognized as one of the greatest films of all time. In 1999 it was deemed "culturally, historically, and aesthetically significant" by the Library of Congress, in its first year of eligibility, and was selected for preservation in the National Film Registry. Still, we suspect most of today's students haven't seen Do the Right Thing, or many other important films tracing historical patterns of racism in our criminal justice system and in the culture at large.
This week, as the nation roils with mass protests sparked by George Floyd's murder, we at Democracy & Me wanted to change that. We asked Cincinnati-based film critic TT Stern-Enzi to help us out by hosting a conversation about the film, and recommending a few others for home-streaming in these extraordinary times.
Here's a plot synopsis of Do the Right Thing, from Common Sense Media, which recommends the film (rated R) for viewers 15 and older: "On one hot summer day in the Bedford-Stuyvesant neighborhood of Brooklyn, residents battle despair, joblessness, discrimination, and each other. Blame is everywhere; anger predominates. A collection of volatile characters of diverse ethnic backgrounds, including the owner of a pizzeria and his sons, a local disc jockey, a pizza delivery man, a single mother, and many others, interact as tensions escalate and ultimately erupt in a nightmare of violence and destruction."
For this special episode of D&Z, we're letting some former students do the talking. They are:
TT Stern-Enzi, film critic with Cincinnati CityBeat and Fox19, and film programmer for the Over-the-Rhine International Film Festival.
Brian Taylor, a past leader of Mass Action for Black Liberation (formerly Black Lives Matter Cincinnati).
Kevin Fleischmann, a middle school teacher and white father of two adopted black sons.
And here are a few more films, past and present, recommended by TT Stern-Enzi: