WVXU's Howard Wilkinson has spent the 2016-2017 school year advising the staff of Walnut Hills High School's student newspaper, The Chatterbox. While he has passed along a great deal of what he has learned throughout his career as a reporter, he readily acknowledges that he has benefited as much, if not more, from the experience.
On his last day, the students expressed their appreciation.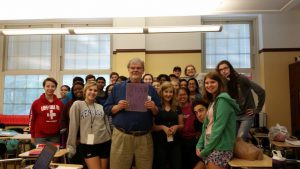 Howard is looking forward to the next school year already!