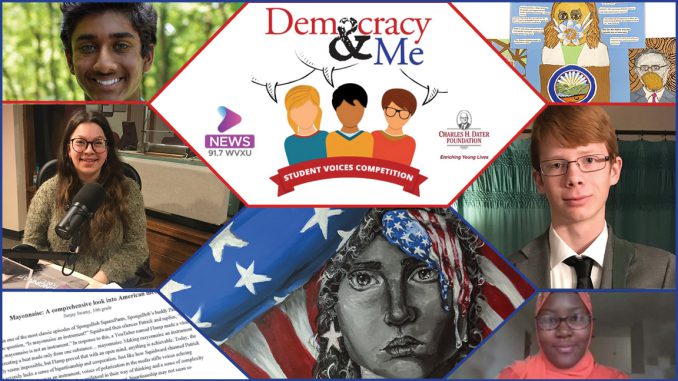 From many voices came one clear message: This world needs us, and we are ready to step up.
Students from across the WVXU listening area and beyond confronted the problems facing today's politics, media, and society in the Democracy & Me 2020 Student Voices Competition. With a colorful range of essays, poetry, audio and video pieces, visual artwork, an original song, short plays and more—40 entries in all—these 8th– to 12th-graders tackled some of our country's toughest issues, in this cataclysmic election year, and came up with bold solutions.
"With an open mind, anything is achievable," wrote Sanjay Swamy, a sophomore at William Mason H.S., in his top-scoring essay (which also had one of the contest's best titles): "Mayonnaise: A Comprehensive Look into American Media."
"I ask you, pleading, heart bleeding, who makes America great?" demanded Anabel Villanueva, a senior at Walnut Hills H.S., in her poem "A la frontera/A la barrera," which scored highest among creative entries.
"It is the media's responsibility to let us be heard. So I say to all of the planet's youth: If they won't listen, speak louder," urged Eliot Berberich, a freshman at Talawanda H.S. and a close runner-up with his audio essay, "First Journalistic Equality, Then Journalistic Truth."
To hear audio versions of some entries, narrated by their creators, check out our latest episode the Democracy & Z podcast.
This was the second year for the contest, sponsored by the Charles H. Dater Foundation, and the first in which students were encouraged to submit creative pieces as well as traditional essays. A selection of outstanding entries are published on the Democracy & Me website; audio versions will be featured in an upcoming episode of the "Democracy & Z" student podcast, and you might catch a few pieces on 91.7 WVXU as well.
"Our judges were impressed by the variety of submissions, as well as the overall quality," said Julie York Coppens, educational outreach coordinator for Cincinnati Public Radio and the competition's organizer.
"The panel had a job choosing just three prize-winners from so many worthy entries, all approaching the contest prompt in different ways. If you look at the gallery of entries on the website, or listen to the podcast, I think you'll understand why the scoring was so close. These are some smart young people, they see what kind of world they're graduating into, and they have a lot to say."
Here again are the winners:
Sanjay Swamy
(Top Essay $1,000), William Mason H.S.
Anabel Villanueva
(Top Creative Entry $1,000), Walnut Hills H.S.
Eliot Berberich
(Runner-Up: Audio Essay $500), Talawanda H.S.
The following students were finalists:
In addition, Aiken H.S. educator Aaron Parker, who had two student participants in the contest, won a drawing for a $500 prize, for resources to support his teaching.
Judges for the competition were WVXU staffers Chris Phelps, Maryanne Zeleznik, Tana Weingartner, Ambriehl Crutchfield, and Howard Wilkinson; Cincinnati Public Radio board members/advisers Gerri Strauss and the Hon. Michael Newman; Streetvibes editor Gabriela Godinez; Fourthwall Youth Studios director Frank O'Farrell; Elementz executive director Tom Kent; and Democracy & Me's educational coordinator Dr. David Childs, Associate Professor of Social Studies Education at Northern Kentucky University.
And here, for the record, was the 2020 contest prompt:
It's a big year in American politics! Media pros are working overtime to cover the campaigns, break down the issues, and track public opinion. What's missing from this picture? Whose stories, voices, and concerns are we not hearing, and why? We challenge you to transform the narrative: How would you bring more journalistic truth, and less noise, to the process of choosing our leaders?
Thanks to all the competition participants and supporters—especially the teachers and parents who encouraged their students to submit pieces (most came in after schools shut down due to COVID-19). We're excited to share their outstanding work with you, and we look forward to next year's contest, when we'll surely have even more to discuss.
The following students, while not finalists, received high marks from the judges. We encourage you to check out their work as well: