Dr. David Childs, D.D., Ph.D.
Northern Kentucky University

We want to continue our tradition of highlighting cultural diversity in holiday traditions. We must continue to find ways to expand and diversify our understanding of American history and culture. One practice we would like to highlight is the Watch Night Service tradition in the Black community that takes place on New Year's Eve.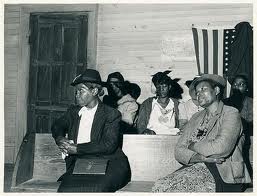 Watch Night Service dates back to 1862-
https://www.urbancny.com

Watch Night Services in Christian Traditions
The term Watch Night Service (also called Watch Night Mass) is a religious tradition whereby Christians attend an annual New Year's Eve worship service. The yearly church service provides Christians the opportunity to reflect upon the past year, using what they have learned to equip them for the new year. Watch Night Services often include preaching, lay exhortation, singing, praying and the taking of Holy Communion. Many different Christian denominations hold late night services on New Year's Eve, which is the seventh day of Christmastide.

Watch Night Services as Historic Black Religious Tradition
African Americans have a strong tradition of New Year's Eve watch night services that is heavily rooted in black cultural history, dating back to the American Civil War. On December 31, 1862, late in the evening enslaved and free African Americans gathered in their homes and churches, to "watch" and ring in the new year, awaiting news that the Emancipation Proclamation had legally taken effect. On September 22, 1862, President Abraham Lincoln issued an executive order that freed enslaved people in the states rebelling against the union. But the legislation would not take effect until midnight January 1, 1863. On that night African Americans across the country watched and waited for the news of freedom, this established the historic Black Watch Night Service (Also called Freedom's Eve) that is still widely practiced in contemporary times. Today, Watch Night is an annual New Year's Eve tradition that includes the memory of slavery and freedom, reflections on faith, and celebration of community and strength.