Dr. David Childs, Ph.D.
Northern Kentucky University

INTRODUCTION
I have written about my childhood attending an urban school and the lack of literary resources I had access to that could cultivate my curiosity for learning. Fortunately there were individuals in my community and church, often outside of the school setting that offered the resources needed for academic success. See a recent article I wrote for Democracy and Me entitled Re-educating Our Children: Multicultural Educational Resources from Sweet Blackberry Media Company. This is worth mentioning because a student's success in school and in life is often contingent on their exposure to rich and diverse curricular resources and educators that can foster and cultivate learning.



Cultural Diversity and Education: Foundations, Curriculum, and Teaching 6th Edition By James A. Banks.

A MORE DIVERSE CURRICULUM
An important aspect of effective teaching is to expose students to a more diverse curriculum. Teachers should not simply attempt to diversify their curriculum because it is a good thing to do. Teachers must go beyond such a surface level view of diversity. We must understand that students get a more robust education when they engage with resources and literature that features a diversity of people and subject matter. An article entitled The Importance of Diversity and Cultural Awareness in the Classroom from the Drexel University School of Education states that "when working and learning with people from a variety of backgrounds and cultures present in the classroom, students gain a more comprehensive understanding of the subject matter. It also teaches students how to use their own strengths and points of view to contribute in a diverse working environment."

THE INTERSECTION OF GENDER AND CULTURAL DIVERSITY AND LITERATURE
For the last installation of our series on Women's history we would like to highlight the importance of integrating a more diverse body of literature into school curriculum. There are a number of children's and adolescent young adult books that help us think about the intersection of gender and cultural diversity in the curriculum. It is important that we expose students to books written by women and people of color and also share stories that feature them. Literature is a great way to teach in an interdisciplinary way. It is also an effective way to diversify the core subjects of math, science, language arts and social studies. Below we offer several examples of books that contain both gender and cultural diversity, divided up by subject matter and grade level.
SAMPLE BOOKS: DIVERSIFYING CURRICULUM ACROSS THE DISCIPLINES USING AYA AND CHILDREN'S LITERATURE

MIDDLE GRADES AND HIGH SCHOOL

Women in Language Arts and Social Studies
Copper Sun By Sharon M. Draper
Dear Shameless Death By Latife Tekin
The Friendship By Mildred D. Taylor
Song of the Trees By Mildred D. Taylor
Parable of the Sower By Octavia E. Butler
Brown Girl Dreaming By Jacqueline Woodson
Aya of Yop City By Marguerite Abouet, Clément Oubrerie
One Crazy Summer By Rita Williams-Garcia
Inside Out and Back Again By Thanhhà Lai
The Girl Who Drank the Moon By Kelly Barnhill
Zeely By Virginia Hamilton
The Color Purple First Edition By Alice Walker

The Forty Rules of Love: A Novel of Rumi By Elif Shafak

ELEMENTARY

Women in Science
The Meteorologist In Me By Brittney Shipp
Your Fantastic Elastic Brain By JoAnn Deak Ph.D.
Mae Among the Stars By Roda Ahmed
The Doctor with an Eye for Eyes: The Story of Dr. Patricia Bath By Julia Finley Mosca
The Astronaut With a Song for the Stars: The Story of Dr. Ellen Ochoa By Julia Finley Mosca
Black Women in Science: A Black History Book for Kids By PhD Kimberly Brown Pellum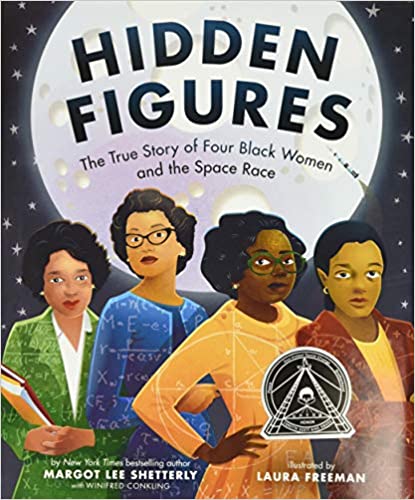 Hidden Figures: The True Story of Four Black Women and the Space Race By Margot Lee Shetterly

Women in Math
Counting on Katherine: How Katherine Johnson Saved Apollo 13 By Helaine Becker
A Computer Called Katherine: How Katherine Johnson Helped Put America on the Moon
By Suzanne Slade
One Grain Of Rice: A Mathematical Folktale Written By Demi
Maryam's Magic: The Story of Mathematician Maryam Mirzakhani By Megan Reid
The Story of Unshakable Mathematician Sophie Germain By Cheryl Bardoe



The Girl With a Mind for Math: The Story of Raye Montague By Julia Finley Mosca

Women in Social Studies
Molly, by Golly!: The Legend of Molly Williams, America's First Female Firefighter By Dianne Ochiltree
50 Fearless Women Who Made American History By Jenifer Bazzit
Little Leaders: Bold Women in Black History By Vashti Harrison
Skin Like Mine By LaTashia M. Perry
Black Heroes: A Black History Book for Kids: 51 Inspiring People from Ancient Africa to Modern-Day U.S.A. By Arlisha Norwood



The Story of Jane Goodall: A Biography Book for New Readers By Susan B. Katz