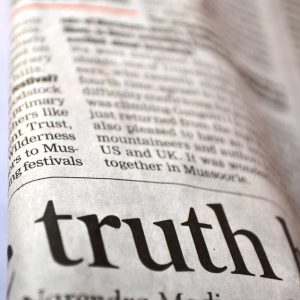 It has always been important to teach students how to distinguish fact from fiction, or fact from opinion. But with so many sources of news available today how do you know what is trustworthy and what is not?
A recent article on vox.com by Scott Bedley, author, speaker and a fifth grade teacher in Irvine, California, chronicles how his approach to the subject has changed over time and outlines activities he is now using to help his students read news and online content more critically.
How do you approach this topic with your students? Have your lessons changed in the past years? Or, since the election?  What resources do you use?
Fact Checking by Student Journalists in the News
On April 5, 2017, NPR reported on the fact checking work of student journalists at Pittsburg High School in Kansas.  The students' detailed research reported in the school's newspaper, The Booster Redux, brought into question the credentials of their newly hired principal, who has since resigned.  The students conducted interviews and combed through online databases to investigate the inconsistencies they found and ultimately reported.
Curriculum for Developing News Literacy
PBS NewsHour has developed a curriculum to help transform student understanding of news while introducing current events. A total of 10 lesson plans, in three units, aim at strengthening students' digital and news literacy competency.
Also available is a new lesson plan for Decoding the News from the ABODA Foundation. The American Board of Trial Advocates Foundation offers many resources and opportunities for expanding student knowledge of the Constitution, the judicial system and civic engagement.