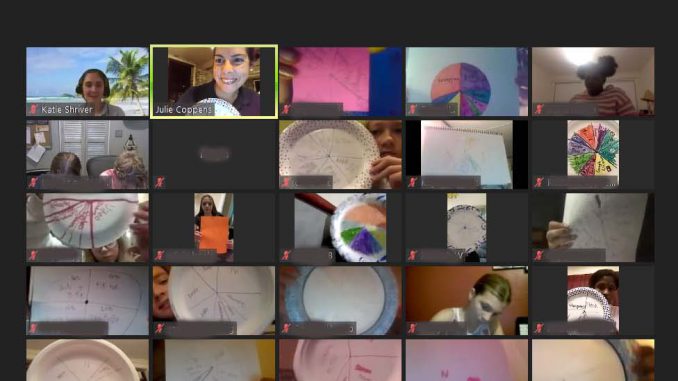 Did you know we make house calls?
Our free workshops, led by program director Julie Coppens and other members of the WVXU/Democracy & Me team, are a fun and inspiring way to bring the program home to your students, scouts, or youth group. Sessions can be tailored to different grade levels, class sizes and settings, virtual or in-person (within Greater Cincinnati), subject to availability.
Here are some of the topics we cover. Got another learning goal in mind? Talk to us! Reach out to Julie (jcoppens@cinradio.org) with questions.
How Healthy Is Your Screen Diet?
Starting with an empty paper plate, we guide students through a "nutritional analysis" of their own media-consumption habits. What platforms, channels and sites eat up most of our time? How do we know when we're getting a square meal—real information, inspiration, and meaningful connections with others—or just a lot of empty calories, or even… poison? Empower your students to see their screen lives more clearly, cut out what might be harmful, and commit to healthier habits.
Navigating the Media
When we look to our devices, we usually have a destination in mind, whether it's news, entertainment, factual information for a school project, a connection with friends… but all too often, we wind up somewhere else. This workshop uses a familiar childhood game—Dora the Explorer Candyland—to help students understand why the media landscape is so packed with pitfalls, and how to avoid them.
Power of the Pen
A writing workshop to ignite creativity, collaboration, and revolutionary self-expression. We'll look at some inspiring examples of area teens speaking truth to power on our D&Me platforms, in their own student publications, and at recent demonstrations for social justice. We'll discuss strategies for persuasive writing—knowing your audience, building credibility, appealing to hearts and minds—and then practice together, through a series of "writing sprints" based on shared ideas.
Take the Mic
Podcasts and other forms of audio storytelling are a great way for young people to build journalism skills, have fun with technology, and connect with peers—but that live mic can be scary! This workshop takes students through an energizing physical and vocal warm-up routine (just like the radio pros do before going on-air) to help them relax, breathe, tap into their authentic voice, and speak with power and clarity. We'll talk about what makes some voices more compelling than others, and if time permits, we'll do some practice recordings and share feedback.