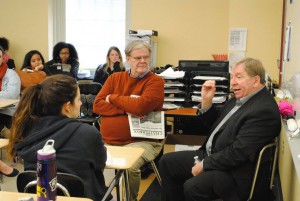 Across several days in February 2016, WVXU's political reporter Howard Wilkinson and national political analyst Ken Rudin visited with Greater Cincinnati students to discuss politics and journalism as a career.
They met with members of Future Leaders OTR; journalism students at Seven Hills School; as well as social studies, english and journalism students at Walnut Hills High School.
Following the school visits, Howard and Ken were guests on WVXU's Cincinnati Edition for their monthly look at the political landscape.  Listen to their wide-ranging discussion, including a preview of the Ohio Presidential Primary.