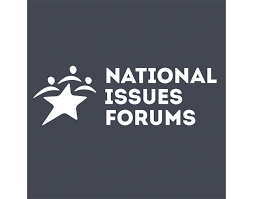 How To Talk About Public Affairs – Without Getting Mad
Professional Development Opportunity led by the National Issues Forum
Free and Open to the Public
Instead of polarizing conversations, classroom debates, and community dialogue, this workshop lead by the National Issues Forum will provide tools to engage in effective dialogue that avoids name calling and vilifying tactics.
Friday, February 23, 2018, 2:00 -4:00 pm, at the Center for Greater Neighborhoods
Free Parking adjacent to the Center and Street side
Refreshments provided
RSVP requested at https://gcslnworkshopfive.eventbrite.com
This workshop is for anyone interested in facilitating effective communication about important issues.  The principles of facilitation for NIF discussions carry over readily to any small group discussion.
This training equips you not only for NIF use, but for other discussion opportunities (including, for classroom teachers, reflection in a service learning setting). William Muse, president emeritus of Auburn University and past president of the National Issues Forum, will present the training.
The National Issues Forum has developed a wide range of public policy discussion workbooks, covering topics relevant to each of us today.  These carefully designed guides allow a facilitator to guide a small group discussion about difficult issues. Learn more at www.nifi.org.